Coats And Jacket From Suitsmen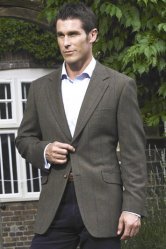 A coat is a long apparel worn by men or women for the purpose of protection, warmth and fashion. It has a long sleeves and open at the front, enclosed by means of hook-and-loop fastener, zipper and buttons.
A jacket it is a garment for the upper body. The difference between the coat and a jacket is that a jacket is a type of sleeve hip-or-waist length apparel while the coat goes down to about the knees.
Blazer, is a type of jackets, or a synonyms of sports jackets. It is a part of mens suits commonly by those professional or businessperson. It is worn with wide variety of other clothes like a shirt and a tie paired with trousers.
A short hooded jacket is commonly use in casual or those who are not in a serious occasion. It is made with cotton, cotton blend or nylon. It is commonly use in camping, running and other outdoor activities.
If we talking about the mens coat that is suited for a professional occasions, a perfect choice for this is a trench coat. The available color of today's trench coat are black, brown and maroon, but the standard color is tan. Most trench coat are made with cotton/polyester blend or a cotton alone.
Wearing coats and jackets as a part of our men suits is a traditional habits. This type of apparel has a purpose why they are exist, like for protection and fashion. For this reason people choose for different style of coats and jackets.